Caption
Birth & Family
The Hesburghs
According to Father Hesburgh's Great Aunt Mary, the Hesburgh family came to America from the Grand Duchy of Luxembourg in 1848. Great Grandfather Hesburgh, along with his wife, two sons Nick and Theodore Bernard, and daughter, Mary, left the war-torn country for a better life in America.
The family settled in New York. Father Hesburgh's grandfather, Theodore Bernard, was hardworking and diligent, paying his way through college by working as a salesman of patent medicines. Selling door-to-door in a diverse city required him to learn several languages. Perhaps more easily as an immigrant from Luxembourg, he knew French and German, but he also learned Italian, Russian, Spanish, and Yiddish. After college he became a teacher and a literary critic and began to write articles for newspapers on economics, labor affairs, religion, and politics. He married and had three sons. Tragically, his twenty-one-year-old wife and their third son died while she was in labor. Two weeks later, his two-year-old son died from poisoning after consuming a medicine incorrectly prepared by a pharmacist. The young father lost his faith, quit his job, and moved with his three-year-old son, Theodore, to a family farm in Iowa where he taught at a one-room schoolhouse and continued to write.
Father Hesburgh's Great Aunt Mary had stayed in New York and lived in a large house on Staten Island with her widowed sister-in-law and her son, Lawrence (Lonnie). Mary traveled to Iowa to see her brother and her nephew. Theodore Bernard consented to have his son return to New York, where young Theodore grew up as a brother to his cousin, Lonnie, who was the same age. Father Hesburgh's grandfather eventually moved from Iowa back to New York and settled in an apartment in Brooklyn.
Theodore Bernard was the definition of a "self-made man." He was a hard-worker, became a salesman for the Pittsburgh Plate Glass Company, and was steadily promoted in his company. Around the time he met Anne Murphy, whom he would eventually marry, he was sent to upstate New York to develop new territory for the company, but that did not prevent him from frequent visits to see Anne in New York City.
The Murphys
Father Hesburgh's Grandfather Murphy was born in Ireland, and emigrated to America with his parents as an infant. He grew up in the Bronx, later became a plumber and got married. Father Hesburgh described him as a "genial, lovable, fun-loving man who was also very religious and a daily communicant at six o'clock Mass." Sadly, as a result of complications related to the birth of their only child, his wife became paraplegic and was confined to a wheelchair for the remainder of her life. When their daughter, Anne Marie, was ten years old, her mother passed away.
Anne would go on to study business in high school and became a secretary for an executive at the American Telephone and Telegraph Company (AT&T). She was also a talented soprano and won a four-year scholarship to study at La Scala, a renowned Italian opera house. However, her plans to study at La Scala changed after a chance meeting with the tall, handsome Theodore Bernard.
Marriage and Family
Two opposite characters, the tall (6'2"), handsome and kind, yet reserved Theodore Bernard, and the beautiful, petite (5'1"), and bubbly Anne Marie Murphy, met and courted amidst "parties in New York City and picnics on the Hudson." Despite Anne's stepmother's attempts to break up the union, the two were married at her home parish, St. Augustine's Church in the Bronx, on February 2, 1913. The young couple moved to Syracuse, New York, where they settled and had four of their five children in the next ten years. Mary Monica came first, in the fall of 1915, then Theodore Martin on May 25, 1917. Next was Elizabeth Anne (Betty) in 1920, then Anne Marie in 1925.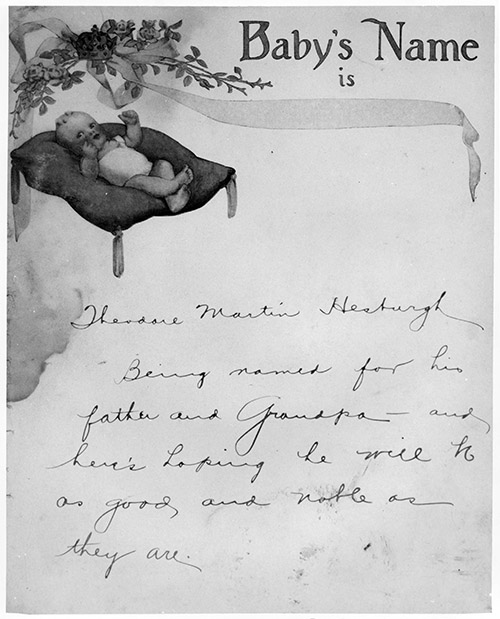 In Theodore Martin's baby book, his mother wrote:
Baby was born at the Crouse-Irving Hospital-Syracuse, NY on Friday, May 25th, 1917 at 11:45 a.m.-the doctor being Dr. Frank McMarron. He weighs nine pounds-and looked like a little rosebud. Mother was so glad God sent her a little boy, for sister would be so glad when she grew up to have a big brother. Daddy was so happy-his face looked like a morning in June.
The children's father, Theodore Bernard, was gone five days a week traveling for work. In the beginning of the family's new life in Syracuse, he traveled by horse and buggy, but soon transitioned into driving a Ford Model T. According to Father Hesburgh, "heaven to him was sitting in front of the blazing fireplace for hours doing crossword puzzles, or puttering around the yard, or strolling through the woods looking for ferns or bushes he could transplant into our yard." Their mother, Anne, loved to travel and socialize, and was drawn to the excitement of New York City with its music and culture, whereas her husband thought it "a miserable place of smoke, noise, and dirt." Father Hesburgh described the pair:
My parents complemented each other very well. My mother, Irish on both sides of her family, was easily the romantic one of the pair. An aura of joy and merriment seemed to surround her all the time. She loved being with people; she laughed and sang even when she thought no one was around. My father by temperament was much more serious and sober about life. Maybe it was because of the hardships he knew as a boy and the influence of his father, but whatever the reason, he just wasn't a demonstrative, touchy-feely kind of person. Nor was he given to much gaiety. But he enjoyed life in his own way, taking a lot of satisfaction in his family and his work. He was steady as a rock, and when goodies were handed out, my father always took last place: We all came first.
Though their temperaments and the ways in which they expressed their faith were quite different, both Theodore Bernard and Anne Marie were devout Catholics. Father Hesburgh recalled about his parents, "They had their share of differences, as all families do, but there never was any doubt that they loved each other deeply and that a sense of love and faith filled our home at all times."
The Hesburgh family's first home was in an apartment on Midland Avenue in Syracuse. They attended church a block away, at St. Anthony's, where young Theodore Martin was baptized. Theodore (who came to be called Ted) attended kindergarten at the public school across from their apartment. The family then moved to an apartment on Arthur Street, and attended Most Holy Rosary Church on Roberts Avenue. When Ted was eight years old, his family moved into a new housing development called Strathmore. All five Hesburgh children attended the primary and secondary school at the adjoining Most Holy Rosary School.